When it comes time for you to buy or sell a house, you want to make sure that you're working with a real estate agent you trust. After all, your real estate agent can undoubtedly make or break your selling process. That's why you want to strive to find an agent who exceeds your expectations and will work to make your buying or selling process as smooth and seamless as possible. Based in Red Deer, Alberta, this talented trio has more than 65 years of combined real estate experience. From the team to the marketing strategy, read on to learn everything you need to know about Andrew Russell and his team of Red Deer real estate agents.



Meet the Team

Andrew Russell & Associates is composed of three talented individuals: Andrew Russell, Dale Russell, and Derek Mackenzie.


Andrew Russell

Andrew Russell was born and raised in Red Deer, and knows the area and community intimately. Being a second-generation Realtor, Andrew knew early on that real estate was the perfect career path for him. Originally licensed at the age of 19, Andrew now has 15 years of experience in the industry, having sold more than 1000 homes in that time.

Andrew's commitment to his clients and extensive understanding of marketing and technology has led to various accolades throughout his career, including being featured in the Real Estate Professionals Magazine's "Young Guns'' and "Top 30 under 30", and "Top 200" in Canada, along with being named a RE/MAX Torchbearer for being Top 40 under 40 in his region.


Dale Russell

Born in Edmonton, Dale Russell moved to Red Deer in 1963 and received his real estate license in 1979. His real estate career initially began at Realty World before he purchased the Red Deer RE/MAX franchise in 1988. Since then, he has been the acting broker and now oversees multiple offices throughout Central Alberta with more than 75 agents.

In addition to running a thriving real estate business, Dale has been committed to giving back to the community that has given him so much. He tackles this through a variety of ways, including serving on various boards. Accomplishments include being an honorary lifetime member of both the Central Alberta Realtors Association and the Alberta Real Estate Association, among other accolades.


Derek Mackenzie

Derek Mackenzie obtained his real estate license in 2013. Before becoming a realtor, Derek spent 16 years serving with the Canadian Armed Forces and doing active tours of duty in both Bosnia and Afghanistan. Derek is a natural people person and thrives on building quality relationships with his clients. With an unrivaled work ethic and dedication, Derek's 16 years in the military have given him the tools needed for a successful career as a real estate agent.



Successful Marketing Strategy for Red Deer Properties

Marketing your home can be a stressful process but thanks to Andrew and his team, it doesn't have to be. This agency takes a multi-pronged approach when it comes to marketing. From investing in professional photography and home staging, read on to learn more about their marketing strategy.


Professional Photography

When it comes to selling your home, one of the most important things that you can do is to invest in professional photography. Andrew Russell and his team understand that photos are often the first glimpse an interested buyer has into a home, which is why it's critical to make a great first impression.

According to the National Association of Realtors, homebuyers indicated that photos are the number one feature they rely on when they are looking for a home online. Potential buyers do not respond well to grainy, blurry photos as this is distracting and unprofessional. On the other hand, house listings with professional photos often attract more attention and garner more interest. After all, photos are worth a thousand words. That's why all of Andrew Russell and Associates' listings receive high-resolution, professional photos. They strive to display your home in its best light and highlight your house's best qualities, such as hardwood floors, the backyard, or the outdoor dining space.


Home Staging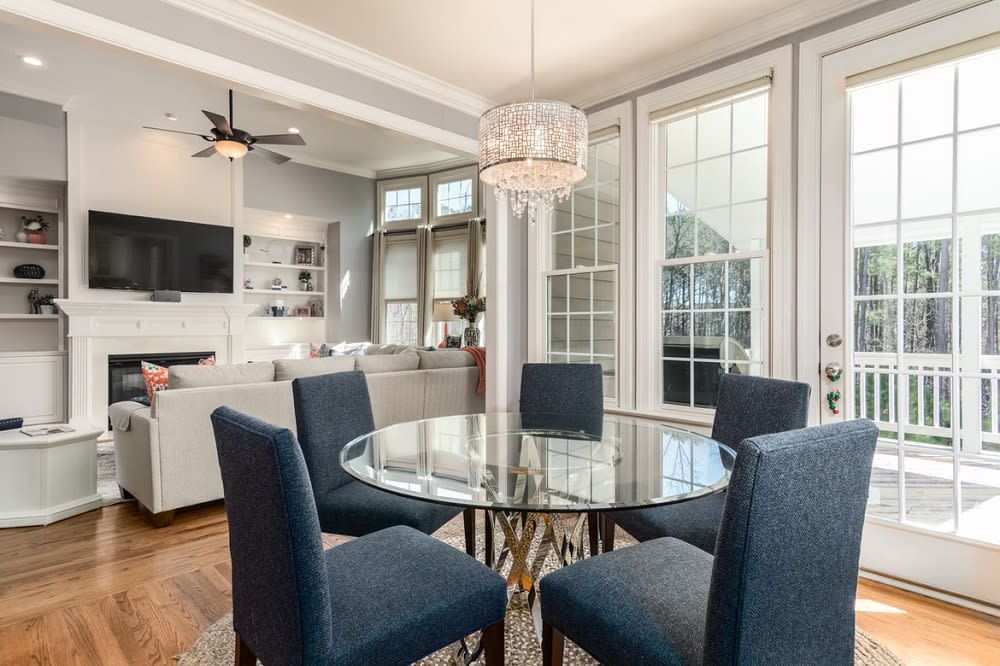 Home staging is another component that Andrew and his team uses for their marketing strategy. Staging helps potential buyers visualize the property and help them generate ideas in their minds of what it would feel like once they move in. If you, like many others, have scrolled through photos of moves that are unstaged, it can feel bare, boring, and uninviting. In fact, there's even a good chance that you might not feel motivated to look at the property in person. Having your home professionally staged will instantly make your home feel more enticing and warm. This can be accomplished through strategically placed rugs, pops of colour, floor mirrors, a bowl of fruit on the counter, or fresh towels in the bathroom among many other ways. Staging is essential for a successful sale in Red Deer.

According to the National Association of Realtors, 77% of buyer's agents said staging a home made it easier for a buyer to visualize the property as a future home. An additional perk of staging is that it also helps your home sell faster. The National Association of Realtors states that a staged home will sell for 17% more on average
than a non-staged home. As if that weren't enough, 95% of staged homes sell in 11 days or less, which translates to 87% faster than non-staged homes.


3D Tours

With conflicting schedules, it can be hard to find time for an in-person tour of a house. That's why Andrew Russell & Associates invests in 3D tours. 3D virtual tours are quickly becoming more and more popular, in large part due to their ease and convenience. These virtual tours enable potential buyers to explore a Red Deer property from the comfort of their homes. Plus, virtual tours are especially convenient when it comes to out-of-town or out-of-state buyers who don't have the ease of doing an in-person tour.


Professional Videography

With more home buyers searching online to find properties for sale, top-quality photos and videos are more important than ever. Much like professional photography, professional videography is another key component to Andrew Russell & Associates' marketing strategy. The use of professional videography can result in higher sales prices and faster sales.

While photos can capture properties beautifully, videos are the better option to capture what makes a home unique. After all, there's something about perfect videos that is hard to put into words. Additionally, when it comes to videos, the statistics are pretty impressive. In fact, 64% of consumers are more likely to buy a product after watching a video about it.

When potential buyers watch a video, they are immediately immersed in the home. Videos give them the ability to see every corner and feel as though they themselves are walking through the property. Through videos, they are able to get to know the ins and the outs of the property. This includes everything from the views out of the window to the lighting.

Additional marketing strategies include drone footage and lifestyle videos, both of which are important tools that will help successfully market your home. When it comes to marketing, Andrew Russell & Associates has you covered.



The Listings

When it comes to listings, Andrew Russell & Associates focuses on three different areas. This includes residential, commercial, and land listings. To familiarize yourself with the available options, head over to the website and take a look around. There, you can flip through high-quality photos and get acquainted with what's on the market. See something you like? Contact Andrew Russell today to get the ball rolling!



Why Work with Andrew Russell & Associates?

This trustworthy, reputable team made up of Andrew, Dale, and Derek is here to make your real estate goals a reality. Whether you're buying or selling, this talented team will guide you through the process from start to finish. With years of combined experience in the real estate industry and deep knowledge of Red Deer real estate listings, this team can help you find a house that truly feels like home. You can also read some client testimonials here to learn what other people are saying.

Plus, Andrew Russell & Associates utilized unmatched marketing strategies. This is exhibited in various ways, including everything from professional photography to drone footage. There's no doubt that working with a realtor you trust is a surefire way to market your home. Handing this job over to a trusted professional, such as Andrew Russell, will enable you to focus on the next step in your journey.